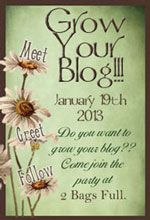 2bagsfull.blogspot.com
Hello friends. Just want to share this "Grow your blog" that I am participating in which starts in the morning. It is created by a very nice person Vicki at 2 bags full. It is in hopes that with many new bloggers looking to make new friends from all over the world will find blogs that interest each of us. So with that in mind I am hoping to make many new following friends on my blog.
Hello, my name is Theresa. I created my blog called "Little putty, Little paint" a few months ago to share a few of my interests. OK, many of my interests. I and my husband live in SW Wisconsin (USA). I love to decorate, create things from old worn pieces and make something different out of them. We have a passion for renovating old buildings which others have told us we are crazy to do because they seem to be intimidating to most and our selection is usually what most refer to as a money pit! We do have a huge project in the works which happens to be an old 158 year old flour mill. We plan to renovate it into our home. I will post updates as we go. We completed renovations on our old railroad depot this fall and are now living in this cozy little home.
As I am always decorating, I also love to share new photos of my latest work. I would enjoy having you as a follower. I will again list the main interests on my blog to lure you in (kidding, haha). I do love to joke around to.
HIGHLIGHTS PERTAINING TO THIS BLOG.....
My style of interior decorating
Renovate a 158 year old flour mill into our home
Thinking outside the box ways to repurpose old pieces into something new for your home
occasional recipes that I love
Humor
I hope that this blog will grab your attention and make you want for more! What have you got to loose. Follow me and find out! Look forward to sharing my life with new friends!